2017 Toyota 86 Introduction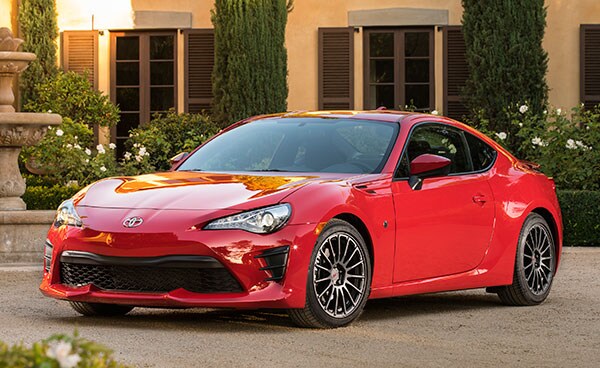 The 2017 Toyota 86 (called Eight Six) used to be the Scion FR-S, until last year when Toyota shut down the Scion brand. With rear-wheel drive, a tight, balanced chassis, and an absence of excessive mass, the Toyota 86 is one of the most entertaining cars available with a Toyota badge. And it's probably not an exaggeration to claim it is more fun to drive from an enthusiast's standpoint than most of the cars on the road, partly because its agility and performance can be enjoyed without being socially irresponsible.
For 2017, Toyota 86 features slightly altered styling, revised suspension settings, a bit more power, and upgraded interior materials. The changes are intended to make it prettier, more comfortable, quicker, and give it better grip at the rear wheels in corners.
Designed by Toyota and built by Subaru (whose version is called the BR-Z), the re-badged 86 hasn't lost its intention to be a true sports car that's affordable and user-friendly. It's nimble and spirited on country roads, while being comfortable and convenient around town.
The 86 is powered by the Subaru 2.0-liter horizontally opposed four-cylinder engine, with Toyota direct injection and port injection. It makes 205 horsepower and 156 pound-feet of torque that isn't very strong at low revs, so the 86 needs to be wound up. Redline is just fine with this sporty mill.
The standard transmission is a 6-speed manual, with an available paddle-shifting 6-speed automatic, but we think the automatic defeats the purpose of this car.
The fuel mileage isn't too hot for a car this light and modestly powered, EPA rated at 21/28 mpg City/Highway, or 24 mpg Combined city and highway miles per gallon. That's only 3 miles per gallon better than the 455-horsepower Corvette, and 2 mpg WORSE on the highway. With the automatic it gets 27 mpg Combined, but the boredom isn't worth the savings.
The NHTSA gives the 86 four stars for frontal crash protection and five stars for rollover. There's no overall score, but the Scion FR-S got five stars.