2017 Toyota Land Cruiser Introduction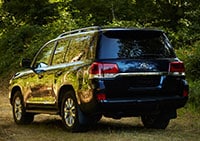 Built for remote terrain around the globe, the hulking Toyota Land Cruiser feels forced into suburbia. It's highly refined, with poise and presence, but it can't escape its truck roots. It seats eight, but the third row is more of a jump seat. The Lexus LX 570 is the luxury version of the Land Cruiser, with hydraulic suspension to smoothen the ride and escape those roots.
The chassis is body-on-frame, and the drivetrain is full-time four-wheel drive, with a locking center differential. The engine is a brawny 5.7-liter V8 making 381 horsepower, mated to a new eight-speed automatic transmission. The 5700-pound Land Cruiser is emphatically propelled down the road by this powertrain.
The Land Cruiser hasn't been redesigned since 2008, although it got updates to styling, technology, and that new transmission for 2016. For 2017 it adds active safety features, including automatic emergency braking with pedestrian detection, lane departure warning, automatic high-beam LED headlamps, adaptive cruise control, and blind-spot monitors with rear cross traffic alerts.
The Land Cruiser is a gas hog, no surprise, getting 13 miles per gallon city, 18 highway and 15 combined, about the worst in class. But at least the big V8 doesn't need high-test fuel.
It won't be crash-tested by the government or insurance industry because the cost is high and sales are low. But it's a tank, no worries if you crash into a Fiesta. Standard safety equipment includes 10 airbags, rearview camera, tire-pressure monitor, and LED headlamps with auto high beams. And Trailer Sway Control, an important safety feature.