2017 Toyota Yaris Driving Impressions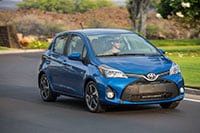 Economy-car buyers don't usually put performance near the top of their preferences. That's wise, because with either engine, the Yaris trails many rivals in friskiness.
Eking out satisfactory acceleration is possible only by keeping the hatchback's engine revving fast. But past 3,000 rpm, that engine feels loud and strained. Noise is aggravated by the outmoded 4-speed automatic transmission. Higher-speed downshifts are both blaring and dramatic.
Overall, Yaris drivers get an old-fashioned driving experience. Performance does improve with the manual gearbox.
Two pluses: Ride comfort is comparatively good for a subcompact, while handling is better than might be expected. Well-tuned, if rather soft, springs limit the effect of bumps and ripply pavement. Roadholding improves with the SE's stiffer suspension, without losing much ride quality.
Driving qualities are more appealing with the iA sedan, which feels perkier than the hatchback. Though the iA's Mazda-built engine is identical to the hatchback's in size, it's entirely different, employing direct injection. With manual shift, an iA can feel almost like a low-budget sport sedan. Unlike the hatchback's transmissions, both of the iA's 6-speed units are excellent. Precise steering is well-weighted, and the taut iA suspension absorbs many trouble spots.
Fuel-efficiency could be better. Hatchbacks with 4-speed automatic are EPA-rated at only 30/35 mpg City/Highway, or 32 mpg Combined. With 5-speed manual, it's 30/36/33 mpg. Gas mileage rises with the iA, EPA-rated with automatic at 32/40 mpg City/Highway, or 35 mpg Combined (30/39/34 mpg with manual).