2017 Toyota Yaris Walk Around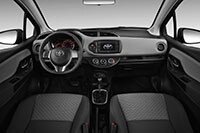 Minimally adorned compared to many rivals, the Yaris hatchback has a well-proportioned appearance. More restrained than such subcompacts as the Chevrolet Spark and Honda Fit, the hatchback looks flat and clean, if ordinary. More brightwork is evident up front, and the trapezoidal-shape grille features black mesh.
Because the iA sedan evolves from a Mazda design, appearance differs. A huge grille, also trapezoidal, overpowers the front end. Reaching downward as well as outward, it creates one of the boldest noses in the subcompact category. Chrome body trim mimics the geometric design.
Interior
In both hatchback and sedan body styles, front occupants can expect greater comfort than those consigned to the back seat, which is best occupied by youngsters. Adults are likely to feel cramped.
Rear legroom near 33 inches falls below that of some rivals. It's 6 inches less than a Honda Fit provides. Back-seat access can be a challenge in three-door hatchbacks.
Because the hatchback's steering column does not telescope, taller drivers might not feel entirely comfortable. Otherwise, front seats are reasonably satisfying, more comfortable than those in the bigger Nissan Versa, though adjustment range is somewhat restricted.
Front-seat bottom cushions aren't annoyingly short, and are broad enough to suit American bodies. Seat contouring and side support are better in SE trim level.
Along the shelf-like dashboard, controls are easy to use, with soft-touch surfaces evident. Overall, the cabin is logically laid-out and intuitive. Storage areas abound.
Though not fully flat, the cargo floor is higher than in some subcompacts. Cargo volume in the five-door totals a respectable 15.6 cubic feet.
Within the iA sedan's cabin, materials have an upscale look, belying the car's moderate price. Ergonomics beat those of the hatchback, yet rear legroom isn't much better.