2018 Toyota Avalon Walk Around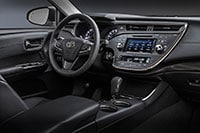 Avalons used to be related to the Toyota Camry, but those days of equivalence are long gone. Today's Avalon benefits from a contemporary, refreshing appearance.
Little, if any, trace of Camry styling can be seen, especially since the Camry's recent redesign. Avalons boast gracefully shaped sheetmetal, even if overall presence isn't as stirring as some European-brand competitors.
Curiously, the wide, deep front end looks overly aggressive for a sedan that aims toward family motoring. Vertically oriented daytime running lights enhance that effect, looking a bit out of place.
Interior
Simple and straightforward, the Avalon cabin isn't as enticing as its exterior, lacking the posh details of European luxury models. Price aside, though, the Avalon ranks among the quietest, most comfortable sedans to be found.
It's also one of the few that offers space for five adults, along with a full load of luggage. Avalons offer 16 cubic feet of trunk space, but Hybrid trunks are smaller by 2 cubic feet.
Though comfortable, front seats lack the level of lateral support that some drivers prefer. Still, they're wide and flat, easy to get in an out, and seem solidly built. Soft leather boasts commendable stitching.
Rear seats are suitably contoured. Three average-size adults can occupy the back bench without troublesome squeezing. Slight head-ducking is needed to enter, due to the low roofline. But once inside, expect plenty of clearance for heads and legs.
Interior fittings are carefully installed, down to the small details. Even the graining of the leather upholstery seems to match neatly.
A two-tone treatment helps separate the amply-sized dashboard. Climate controls are operated via an attractive screen, but touch-sensitive controls have done away with the tactile feel of traditional buttons and knobs. Also unfortunately, Apple CarPlay and Android Auto capabilities are absent.