2018 Toyota Land Cruiser Introduction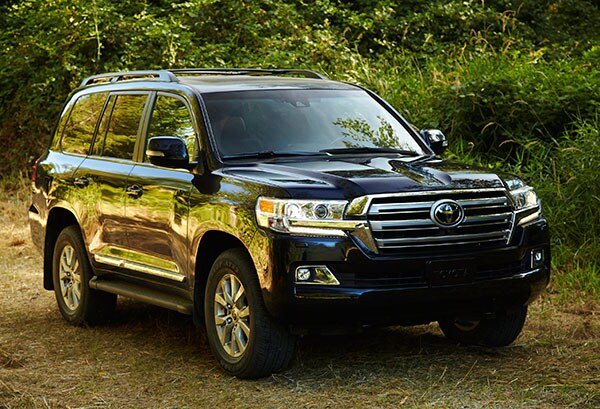 For six decades, the Land Cruiser has served as Toyota's traditional, full-size SUV. Supremely capable off-road, powered by a big V8, the SUV is built on a truck foundation, with a separate body.
Following a substantial freshening for 2016, the Land Cruiser is little-changed for the 2018 model year. The rear-seat entertainment system, formerly standard, is now an option. Outside mirrors now fold inward as the vehicle is locked.
Undeniably reflecting the past, but brought up to date with technology, today's Land Cruiser clearly cannot match most rivals in on-pavement motoring. Off-road, on the other hand, it's ready to demonstrate a passel of capabilities. Even on the highway, this SUV is a lot better than its off-roading reputation might suggest.
Clearly, the Land Cruiser is not a vehicle for everyone. Or for more than a handful. Its hugely admirable reputation for durability was established long ago, through successful ventures in some of the most remote, war-ravaged regions of the world.
Nothing else on sale today looks like Toyota's cruiser, apart from its Lexus LX cousin. Even when operating in the most rugged conditions, its commendable record for reliability remains intact.
Toyota offers just one version of the Land Cruiser. A long-proven 5.7-liter V8 generates 381 horsepower and 401 pound-feet of torque, working with an 8-speed automatic transmission. Every Land Cruiser has full-time four-wheel drive, with a locking center differential and a two-speed transfer case that permits Low-range operation.
Land Cruisers are packed with gadgetry that comes into play far beyond the pavement's end. Multiple-mode traction control is standard. Crawl control functions like cruise control, but for off-road adventures.
Beneath its muscle-bound body, a traditional ladder-style chassis contains an independent front suspension and a solid rear axle, fitted with coil springs. Although the big V8 produces impressive thrust, despite pushing a 5,800-pound vehicle, fuel economy is abominable.
Up to eight passengers can expect pampered comfort and luxury, though some plastic pieces demonstrate the Land Cruiser's work-truck foundation. Lexus's version, the LX, has a more posh interior, plus some design and suspension differences, but is otherwise largely identical.
No U.S. safety agency has crash-tested the Land Cruiser. Several modern safety features are standard, including automatic emergency braking with pedestrian detection, adaptive cruise control, lane-departure alert, and automatic high beams. Front/rear parking sensors are standard, and a multi-terrain camera provides selectable views.