2018 Toyota Prius Introduction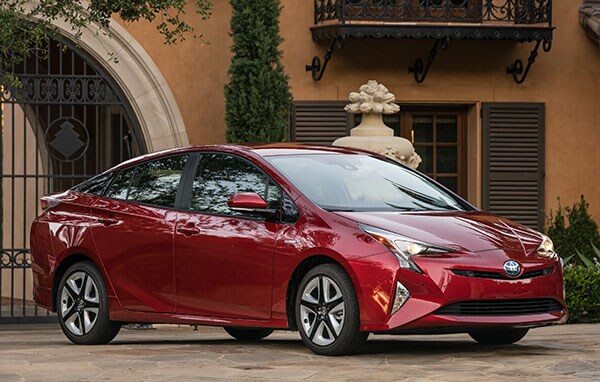 The Toyota Prius was redesigned for 2016, and for 2017 it was upgraded with more standard equipment. For 2018 Prius models, there is little that's new, except for a tablet-sized touchscreen in the top models.
Powered by a 1.8-liter four-cylinder engine mated to an electric motor, Prius remains the king of fuel mileage, at least among cars that aren't plugged in overnight.
Prius gets an EPA-rated 50/54 mpg City/Highway, 52 mpg Combined. The Two Eco model gets even more, with 53/58/56 mpg. The plug-in Prius Prime can go 22 miles on all-electric power.
The electric motor and four-cylinder hybrid are a proven and reliable combination, and the current Prius is faster than pre-2016 models, drawing on a combined 121 horsepower.
There's a choice of batteries among the models: The standard battery pack in the Prius One and Prius Two is a 1.2 kwh nickel-metal hydride, used reliably for generations of Prius models.
Higher-tech 0.75-kwh lithium-ion batteries are used on the rest of the models: Prius Three, Prius Four, up to Prius Plus, Premium and Advanced.
Lithium-ion batteries are about half the weight of nickel-hydride, and they charge up faster and more completely. The power output and durability of Li-ion and Ni-MH batteries is about the same, but Li-on is more expensive mostly because fewer batteries are made. Tesla uses lithium-ion, so does iPhone. If Li-ion has an Achilles heel, it's breakdown in high temperatures. Don't leave your cellphone in the sun or park your Tesla for long if you live in the Australian Outback. As for their impact on the environment, lithium-ion wins, except for one little thing; it turns water to hydrochloric acid, making disposal a critical matter.
The Prius is as safe as it is efficient, with a straight-A report card from the IIHS, earning the Top Safety Pick+ designation. Even the base model includes forward collision warning with automatic emergency braking, adaptive cruise control, automatic high beams, and active lane control. It all comes in a package called Toyota Safety Sense-P.