2018 Toyota Tacoma Walk Around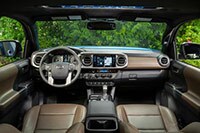 The new hood and blocky front fascia that came in 2016 doesn't change the reality that the Tacoma basically looks like it did when it was new for 2005. It's smoother, and the blocky fender flares are gone, and the hex pattern grille is subdued compared to the bigger Tundra.
The tailgate with Tacoma stamped on it looks industrial like the Tundra. The three-piece bumper made of fiberglass and resin makes it look different. It may not be rugged but it's lightweight and easy to replace, if you don't mind throwing away the easily broken one and paying for a new one.
The Pro looks more rugged, with its black alloy wheels and all-terrain tires, and lifted by one inch.
Interior
We described the Tacoma as being possibly the most rugged midsize truck, and that includes the cabin. Comfort and amenities are not the Tacoma's strong suits. The low roof and high floor requires climbing and ducking just to get inside, and when you get there you'll find the seats uncomfortable. The Chevy Colorado, GMC Canyon and Honda Ridgeline are more comfortable.
The seats are short and flat, the driver's seat doesn't raise or tilt (not even in the top Limited model), and there is no power adjustment, which comes standard on Canyon and Colorado. Maybe the lack of ability to raise the seat is because headroom is limited, especially with the available moonroof.
The leather seats offer slightly more support than cloth, but the seats across the Tacoma line are springy, foam-core affairs that put too much pressure on the seat bones and not enough support under the thighs. Back support is also poor.
All that said, the Tacoma is full of excellent details. There's an acoustic glass windshield and a lot of sound deadening, and the lack of cabin noise makes it feel refined. There are some upscale materials on the horizontal dashboard, and the surfaces are coordinated. The rearview mirror has a GoPro mount. There's touchscreen audio, and most models can do smartphone navigation.
In the back, the tailgate has a lock and damper to keep it from slamming down when you drop it with one hand. Rails in the bed have movable cleats and tie-down points. Some models have a deck-mounted 120-volt AC power outlet. There's an available four-panel folding tonneau cover.
The folding rear seats in the Access Cab are very small, suitable for kids who think it's fun to be put in a box and bounced for a while, and groceries that might not mind. The Double Cab's full back seat allegedly seats three, while being split 60/40 with storage under the bench.