2019 Toyota C-HR Walk Around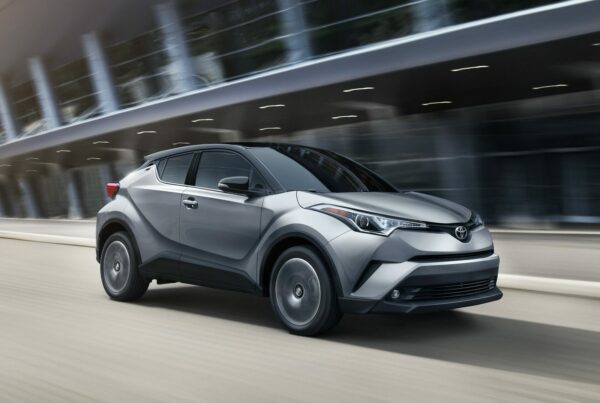 The C-HR is without a doubt stylish and expressive, even extroverted. It manages to look smaller than it is, even with its high stance and many curves and slits. The busy rear end sticks out, with bracketed taillights that are as bold as the rest of the car.
Designers paid a lot of attention to details. The rear door handles are hidden within the pillars, which turn upward at the tall back end. Cat's-eye headlamps flow into the front fenders and wrap into the wheel wells. A rising window line under a sloping roofline attempts to mimic a two-door coupe—thus the name.
Interior
The expressive exterior forces compromises in the cabin, as wild shapes take up space and block some of the view to the rear.
Toyota calls the central control pod the MeZone. Controls for the 8.0-inch touchscreen mix stylish knobs with switches. As a design theme, diamond shapes turn up all over the place, from the headliner to plastic door panels. Soft-touch surfaces mix with hard plastic. Storage bins and trays are plentiful.
The front seats are supportive and reasonably roomy, but sit rather low. The wide and upright rear seat is higher, yet there's still good headroom, though with only 31 inches of legroom it can get snug for tall passengers. Unlike many small crossovers and hatchbacks, three adults can actually fit in the back seat of the 2019 C-HR without undue discomfort.
The C-HR has 19.0 cubic feet of cargo space behind the second row, which expands to a modest 32.4 cubic feet with the seats folded to form a flat but high load floor.
The base infotainment system is not particularly intuitive. But at least for 2019 there is Apple CarPlay, with a popular smartphone interface; Android Auto users are still left behind, but Toyota is working on that integration.