2019 Toyota Corolla Introduction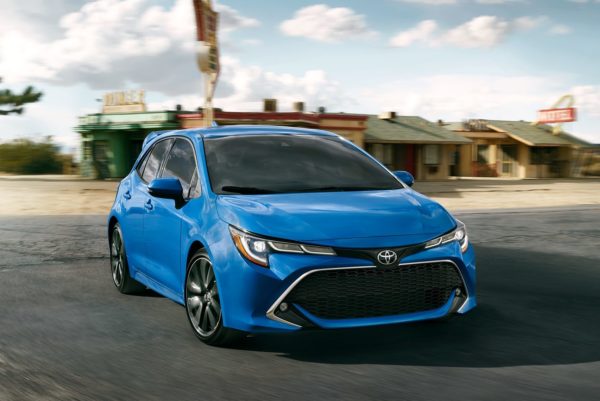 Toyota has updated its compact Corolla for the 2019 model year, adopting a stronger powertrain and adding a new Hatchback body style. Meanwhile, Corolla sedans carry on with the previous design and powertrain for another year; a new sedan arrives for 2020.
On sale since summer 2018, the hatchback presents a sportier, yet more restrained, appearance. Two trim levels are offered: SE and XSE. Sedans come in six trim levels.
Essentially, the hatchback is a European-market model, modified to suit American tastes. As a rule in the U.S. market, sedans outsell the hatchback body style by a wide margin. The new chassis is shared with several Toyota models, including the hybrid Prius.
Beneath each hatchback hood, a new 2.0-liter 4-cylinder engine develops 168 horsepower and 155 pound-feet of torque. Sedans retain the previous 1.8-liter engine, rated at a less vibrant 132 horsepower and 128 pound-feet.
A 6-speed manual gearbox is standard with SE trim, with a continuously variable transmission (CVT) optional. XSE hatchbacks come only with the CVT. Both transmissions have been set up to deliver a sportier feel than before. The manual transmission delivers rev-matching downshifts, while the gearless CVT incorporates a dedicated low ratio to provide quicker takeoffs.
The redesigned Corolla hatchback has not yet been crash-tested by the National Highway Traffic Safety Administration. The Insurance Institute for Highway Safety gave it a Good score in all tests (small and moderate overlap, as well as side-impact). Frontal collision avoidance was rated Superior, and headlights earned an Acceptable score.
Hatchbacks come with a batch of standard active safety features. They include forward-collision warning with automatic emergency braking and pedestrian detection, active lane control, adaptive cruise control, road sign detection, and automatic high-beam headlights. Stop-and-go cruise control is included in automatic-transmission Corolla models.
Blind-spot monitors are optional for the CVT-equipped SE, but standard on XSE.