2019 Toyota Land Cruiser Introduction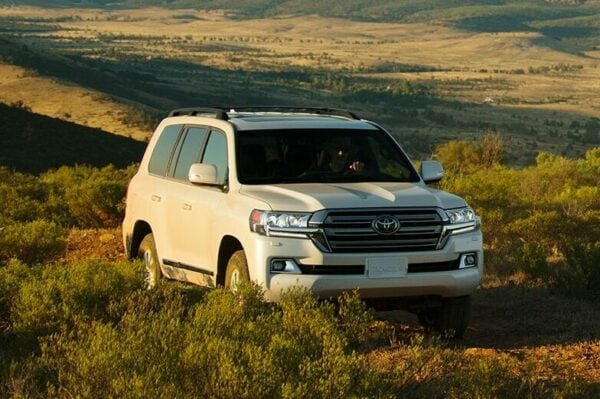 For decades, the rock-solid, full-time four-wheel-drive Toyota Land Cruiser has been one of the most trusted tools around the world. With usage like this, a vehicle doesn't need constant changes to keep up with the market. The unchanged 2019 Land Cruiser is in the 12th year of its current generation, its last update coming in 2016 with some styling changes, a new infotainment system, and 8-speed automatic.
If you want more style, there is the all-wheel-drive Lexus LX 570 with the same platform and powertrain, seating five passengers instead of eight.
The Land Cruiser is powered by a 5.7-liter V-8 making 381 horsepower and 401 pound-feet of torque, enough to propel the three-ton vehicle at an ample clip. It can tow up to 8,100 pounds.
With a curb weight of about 5,800 pounds, and a 25-gallon fuel tank, the Land Cruiser offers EPA-rated fuel economy of 13 mpg city, 18 highway, 15 combined.
The chassis is body-on-frame, like a truck, with an independent front suspension and solid rear axle. The suspension is a hydraulic system with massive sway bars, to keep the vehicle level in corners and deliver excellent wheel articulation over rough terrain.
The sophisticated four-wheel-drive system has modes for every surface you might imagine. It even uses the brakes to reduce the turning radius on tight trails.
In the cabin, the instrument panel is heavy with buttons, the infotainment screen is large, and the seats are upholstered with soft semi-aniline leather. The front seats are comfortable and the second row spacious, but the third row is only large enough for small children.
The Land Cruiser hasn't been crash tested, but its bulk offers security. Not to mention its standard active safety equipment, including automatic emergency braking with pedestrian detection, adaptive cruise control, blind-spot monitors, and lane-departure warnings.