2019 Toyota Prius Walk Around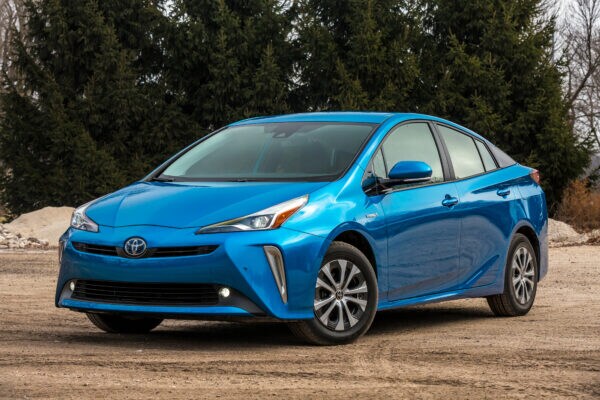 This generation of Prius began in 2016 with a lower and wider body that wears relatively radical styling, which has been smoothed out and toned down in 2019.
The Prius got lower and wider in 2016, but it didn't lose its egg shape, or its horizontally split rear window. The plug-in Prius Prime softens some of the strikingly sharp lines, which still go in many directions: The Prius has a V-shaped hood, horizontal headlamps, vertical fangs on the front bumper, deep creases on the sides, and a rising liftback. The rear pillar is black, to suggest a floating roofline.
Interior
The heavily styled cabin mixes hard plastics on the center console with soft surfaces elsewhere, and features touches like a glossy plastic gear selector. The standard touchscreen is a small 6.1 inches, while the top touchscreen measures 11.6 inches.
The latest Prius has gained comfort and interior space, with contoured front seats and more legroom in rear, now 33.4 inches. Headroom in the rear might be an issue for taller passengers, on account of the sloping hatchback roofline. Rearward vision is restricted by wide rear pillars.
There's a decent amount of cargo space behind the rear seats: 27 cubic feet, about twice the size of the trunk of a small sedan.